BET Reality Star Launches New Venture
The sister of R&B recording artist Keyshia Cole, Neffe is launching a lipstick Line.
After five years away from the spotlight Neffeteria "Neffe' Pugh, reality TV star and sister of R&B recording artist Keyshia Cole, has clearly landed on her feet with her return to television for season two of Frankie and Neffe. The show airs every Wednesday night on the BET Network at 10:30PM/9:30 Central, and viewers are appreciating the same transparent, no-nonsense Neffe that they have always loved. She and her husband Soullow currently have thriving new business ventures and many more in the works.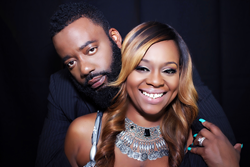 Neffe's first successful move was the launch of her new lipstick line called "Neffeteria by La'cora Monet." The lipstick line celebrates diversity and individuality for all ages and races. Presented in a fashionable sleek case, Neffeteria by La'cora Monet offers a vast array of colors including creamy and matte textures for long lasting shine.
Back in 2006, she worked with her sister and mother Frankie Lons on their BET reality series Keyshia Cole: The Way It Is. Three years later, she and Lons starred in a spin-off called Frankie & Neffe, which ended in October 2009.
Another new venture is the release of Soullow's hit music single "Last Night." This is the first of several music releases this summer and has already received rave reviews from listeners. The song relates to the emotions of the morning after a night of a wild night of partying. Viewers will follow Soullow's rise to music stardom each Wednesday night on the TV show.
"My immediate family has its own identity," says Neffe. "I have put all the drama with my mother and sister behind me and I'm doing me. I want to thank all of our fans for their support."
Other ventures Neffe is working on is her own clothing line, and she has received much success with her debut book My Happiness is My Sanity. Soullow continues to work with his television and film production company (Nyla Production Company), and he has revealed that he is opening his own catering business called Staraee Catering.